Beheaded Syrian scholar refused to lead Isis to hidden Palmyra antiquities
Khaled al-Asaad, 82, was interrogated by militants for a month before he was murdered in the ancient city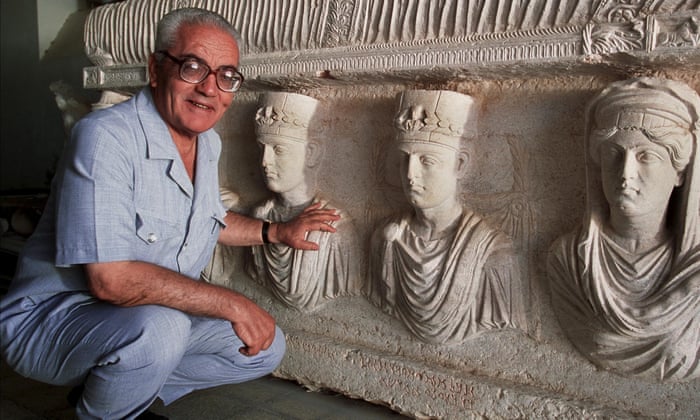 Islamic State militants beheaded a renowned antiquities scholar in the ancient Syrian city of Palmyra and hung his mutilated body on a column in a main square of the historic site because he apparently refused to reveal where valuable artefacts had been moved for safekeeping.
Khaled al-Asaad's enthusiasm for Palmyra was inextinguishable
Read more
The brutal murder of Khaled al-Asaad, 82, is the latest atrocity perpetrated by the jihadi group, which has captured a third of Syria and neighbouring Iraq and declared a "caliphate" on the territory it controls. It has also highlighted Isis's habit of looting and selling antiquities to fund its activities – as well as destroying them.
Syrian state antiquities chief Maamoun Abdulkarim said Asaad's family had informed him that the scholar, who worked for more than 50 years as head of antiquities in Palmyra, was killed by Isis on Tuesday.
Asaad had been held for more than a month before being murdered. Chris Doyle, director of the Council for Arab-British Understanding, said he had learned from a Syrian source that the archaeologist had been interrogated by Isis about the location of treasures from Palmyra and had been executed when he refused to cooperate.
Khaled al-Asaad profile: the Howard Carter of Palmyra
Read more
Isis captured the city from government forces in May but is not known to have damaged its monumental Roman-era ruins despite a reputation for destroying artefacts it views as idolatrous.
"Just imagine that such a scholar who gave such memorable services to the place and to history would be beheaded … and his corpse still hanging from one of the ancient columns in the centre of a square in Palmyra," Abdulkarim said. "The continued presence of these criminals in this city is a curse and bad omen on [Palmyra] and every column and every archaeological piece in it."
Palmyra-based activists circulated an unverified, gruesome image on social media of Asaad's beheaded body, tied to a pole on a street in the city.
http://www.theguardian.com/world/2015/aug/18/isis-beheads-archaeologist-syria