Headdress
Period: Early Dynastic IIIa
Date: ca. 2600–2500 B.C.
Geography: Mesopotamia, Ur (modern Tell al-Muqayyar)
Culture: Sumerian
Medium: Gold, lapis lazuli, carnelian
Dimensions: L. 15 1/8 in. (38.5 cm)
Classification: Metalwork-Ornaments
Credit Line: Dodge Fund, 1933
Accession Number: 33.35.3
Description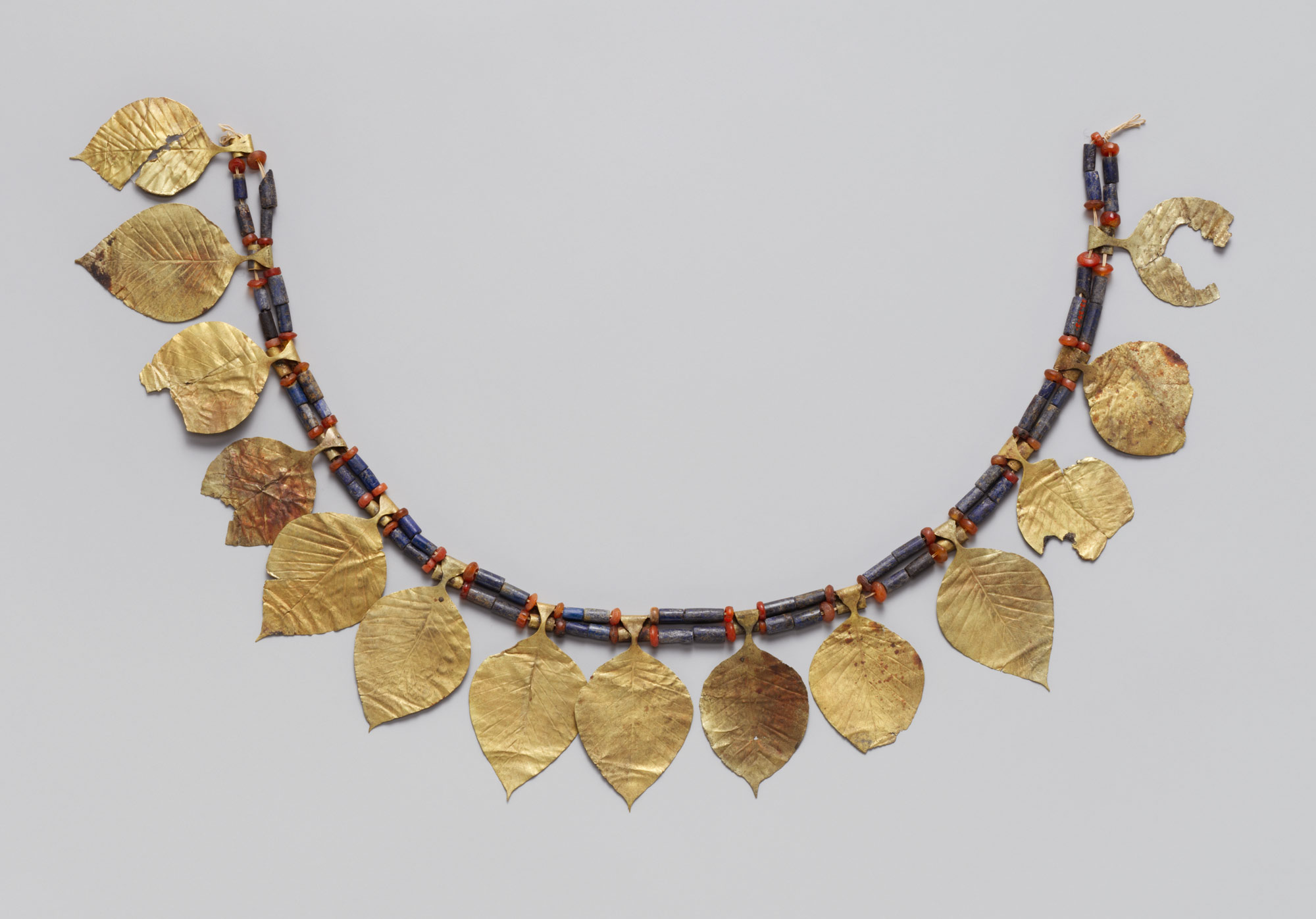 Kings and nobles became increasingly powerful and independent of temple authority during the course of the Early Dynastic period (2900–2350 B.C.), although the success of a king's reign was considered to depend on support from the gods. A striking measure of royal wealth was the cemetery in the city of Ur, in which sixteen royal tombs were excavated in the 1920s and 1930s by Sir Leonard Woolley. These tombs consisted of a vaulted burial chamber for the king or queen, an adjoining pit in which as many as seventy-four attendants were buried, and a ramp leading into the grave from the ground.
This delicate chaplet of gold leaves separated by lapis lazuli and carnelian beads adorned the forehead of one of the female attendants in the so-called King's Grave. In addition, the entombed attendants wore necklaces of gold and lapis lazuli, gold hair ribbons, and silver hair rings. Since gold, silver, lapis, and carnelian are not found in Mesopotamia, the presence of these rich adornments in the royal tomb attests to the wealth of the Early Dynastic kings as well as to the existence of a complex system of trade that extended far beyond the Mesopotamian River valley.
http://www.metmuseum.org/toah/works-of-art/33.35.3/